Shopping Cart
Your Cart is Empty
There was an error with PayPal
Click here to try again
Thank you for your business!
You should be receiving an order confirmation from Paypal shortly.
Exit Shopping Cart
August 2, 2017 
  This morning as I walked down my woods road, I started seeing plants in bloom that I had not seen in a while. These are amazing, powerful healing plants. Here they are on my land, in flower and speaking to me! These are plants I know! Plants I have used to help me heal over the years. When I woke up this morning, I felt pain in my neck and lower back. As amazing as it may seem to some, these are plants that help with neck and back pain. The plants I need to heal.
  As I stood there, I looked to get a count of the plants and took note where they chose to grow and thrive. Thinking to myself, should I harvest these plants? After some thought, I decided to leave them, hoping they would multiply in the future. I had a feeling that if I checked my home apothecary when I went inside, they would be there, ready to help me heal!
  Sometimes I need a reminder to take care of my body! I feel Mother Gaia is always there, I just need to be aware somedays more than others. I'm grateful that I live in a house within the forest! As I walk, I like to think my Native American Great Grandmother is showing me the plants that will heal.
    I live in the Piedmont of Virginia, close to the Fall Line that separates the Piedmont from the Coastal Plain. Most of the topsoil has been eroded away, due to the farming techniques that were used by the early settlers. By the time of the Civil War, approximately 10% of this area was left in forest. I'm happy to say that today, 60% of this land has reverted back to forest.
   Two of the healing herbs I saw today are St John's wort (Hypericum perforatum) (left) and Lobelia (Lobelia inflata). St. John's wort flowering tops make a dark red tincture or oil. It has antiviral and anti-inflammatory properties and is used topically and internally for spinal injuries, nerve pain, sciatica and so much more.
    Lobelia is used as a fresh herb in flower and seeds. It was used for thousands of years by Native Americans. Lobelia is a strong antispasmodic to the lungs, heart and musculo- skeletal system. Lobelia seed oil is used for muscle tension, muscle spasm, back pain and neck pain.
   Both these plants are native to Virginia and grow in the forest. These plants are herbal medicine.
    Talk to a qualified expert, before using any herbs you're unfamiliar with. Make sure you can positively ID any plant before harvesting it and always make sure you leave enough of the plant to prevent the extinction of its present on our earth.  
   This morning, my dog Jake woke me up. He had made the decision that it's time for us to get up. He depends on me to help him get up and moving these days. By the way, Jake is a very special and gifted dog, to say the least. Jake is a 13 1/2 year old, yellow lab that weighs in at 110lbs. If you were to ask Jake dog his thoughts, he may say he has many responsibilities, which includes keeping his many minions (human) and neighbor dogs busy patrolling the land and keeping his mom safe. I am his mom, also a wife and an Herbalist. I have been an Herbalist for half of Jake's life. He knows a lot about alternative medicine. He loves his veterinarian, who gives him acupuncture and laser treatments. He also gets Reiki treatment and massages daily. Many of my relatives - including my dad - say when they die, they want to come back as Jake. He does live a good life. But so do I! Below is a short story of our journey and why we are happy and well today!
   This story starts about 14 years ago with my chocolate lab, Case, who was diagnosed with bone cancer at 7 years old. I felt lost about how I could help him relieve so much pain. My husband and I took him to a cancer treatment center and in less than 6 months, he passed on. My heart still beats fast when I think of him. A year later, Jake dog came into our lives. He was about 12 weeks old and weight about 10lbs when we brought him home. Jake and I seem to have a lot of similar health problems. The first year with Jake was all about trying to figure out what he could eat, without having an allergy attack. We tried putting him on allergy medicine, but it made him restless. After months of trying different foods, I finally figured out a diet plan that he could eat. About 8 years earlier, I had some food allergies and I figured out what I was allergic to. We both have problems with medications. I stayed away from the physician's office and took Jake to the vets only for vaccinations that I felt he needed. Then one of the worst thing that could happen, happened.
   Within a year of each other, we both came down with Lyme's Disease. At first we didn't know why we were sick. Jake was the first one to start having trouble with his joints. I remember wishing I had got Case dog acupuncture treatments, so I made an acupuncture treatment appointment for Jake. It was amazing to see how much better he felt after each treatment. Later that year, his checkup showed he had Lyme's, so I continued the treatments, with good results. Then, I started getting really sick. I was extremely busy and my job was very physical. I suddenly couldn't do much of anything. After months of little sleep, night sweats, restless legs, my husband asked me if I was ready to go see a doctor. So I went to the doctor and he diagnosed me with having flu-like symptoms. He prescribed a medicine and I had an allergic reaction to it - within two weeks on the medicine I gained 10lbs. When I went for my follow-up visit three weeks later, I asked my physician to check me for Lyme's. The test came back negative and I was informed I couldn't have Lyme's Disease (since then, a new VA law was passed that requires all doctors to tell their patients that the Lyme's Disease test is not accurate and you can have a negative reading and still have Lyme's). I continued to get sicker and my whole body, including my brain, was shutting down. Jake was doing so much better, so I made the decision to have acupuncture. Today, 7 years later, both Jake and I live with chronic Lyme's Disease with hardly any symptoms, all because of Jake's special, amazing Veterinarian and my extraordinary, gifted acupuncturist. While recovering, I went to a three year Herbal School. Today, I see clients who are interested in healing with herbs. I also teach herbal classes through EMC. Both Jake and I are on the right path!!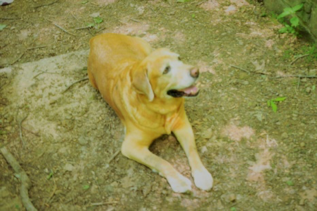 /